Cambridge English Platinum Exam Centres ES439-ES449-AD439 and ES459
Catalunya, Balears, Andorra and Madrid

Michael Terry
Centre Examinations Manager
Originally from Melbourne, Australia, Michael has been working in English language teaching for around 20 years, first as a teacher and then as a Director of Studies. Along the way he has also worked as a Speaking Examiner for Cambridge English and a materials writer for Macmillan. He holds a Masters in Applied Linguistics (TESOL) from Macquarie University, Sydney.


Joan Espinoza - Accounts Administrator
Andy Williams De las Casas - Design and IT support
Soraya Martínez - Content and Communicatons Officer
Natalia Brox
Head of the Madrid Office
Natalia started teaching English while studying her degree in Tourism and holds the Cambridge CELTA and C2 Proficiency qualifications. Having worked as an English teacher and coordinator for ten years, she initially began working with Exams Madrid as an invigilator, supervisor and speaking examiner, and later became a member of the office team occupying various roles, her most recent one being Content and Communications Officer. From November 2021 she is the Head of the Madrid office.
Operations

Sarah Johnston
Head of Operations
Sarah started her teaching career in Barcelona in 1985. She completed her CAP (Certificat d'Aptitud Pedagògica) and then went on to do her RSA (now DELTA). She has been connected with exam classes for many years, first as a teacher and then as a Director of Studies. Sarah is a Speaking Examiner Team Leader for C2 Proficiency, C1 Advanced, B2 First, B1 Preliminary, A2 Key, Young Learners and Business Certificates, and has worked with Cambridge Exams for almost 35 years. She is also a WE (writing examiner).


Esther González - Operations Administrator
Michael Todd Schirf - Logistics Administrator
Samara García - Logistics Administrator
Tatiana Zafra - Operations Administrator

Support Services

Mireia López
Head of Support- Exam Day Experience
Along with studies in the law faculty of the Universitat Autònoma de Barcelona, and a background in the aviation sector, Mireia López holds the CELTA and DELTA Module 2 and has worked extensively as an EFL teacher and Director of Studies. She began to work with Exams Catalunya as an exam supervisor and Speaking Examiner in 2016 and has also presented at our Annual ELT Conference. From January 2020, Mireia joined our team as Head of Support Services.
Helen Smith
Head of the Barcelona Office
Helen is from Nottingham in the United Kingdom. She completed her CELTA at The Lewis School in 2002. She has worked as an English teacher in Barcelona and Manresa teaching young learners, teenagers and adults at a variety of levels as well as preparing students for Cambridge English exams and teaching business English. She worked for eight years as coordinator and Director of Studies.



Marilena Durante - Support Services Administrator
Ana Diestro - Support Services Administrator
Ruth Heyns - Support Services Administrator
Marc Reverté

- Support Assistant

Directors

Caroline Lewis
Caroline read Spanish and French at Edinburgh University and taught English in Córdoba, Zaragoza and Barcelona. She opened her own language school and teacher training centre in 1985 and managed and developed this business for over 30 years. She was our Centre Exams Manager from 1997 to 2016 and oversaw the growth and expansion of all our centres during this time. Her principal role, as Co-director and Managing Partner, is to supervise and develop projects and to continue to provide high quality and flexibility throughout the regions.
Fran Astigarraga
Fran read Law at Barcelona University and holds a Masters degree in Human Resources. He began his career in banking and he worked in a number of different departments of the Catalan administration over several years including the organisation and administration of entry examinations for civil servants. He began collaborating with our centres in 1997 and since 2004 has worked exclusively in the planning, promotion and development of the Cambridge English examinations as Co-director and Managing Partner of the centre.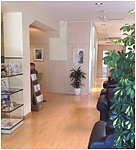 Exámenes ofrecidos: Young Learners English Tests (Pre A1 Starters, A1 Movers, A2 Flyers), A2 Key, A2 Key for Schools, B1 Preliminary, B1 Preliminary for Schools, B2 First, B2 First for Schools, C1 Advanced, C2 Proficiency, Business English Certificates (B1 Preliminary, B2 Vantage, C1 Higher), Teaching Knowledge Test (TKT), Linguaskill General and for Business, Linguaskill online, Occupational English Test (OET), Cambridge Assessment Admissions Testing.
Staff: Over 250 speaking examiners / supervisors / invigilators/ internal inspectors

Others: Authorised Centre for Teaching Awards (CELTA)